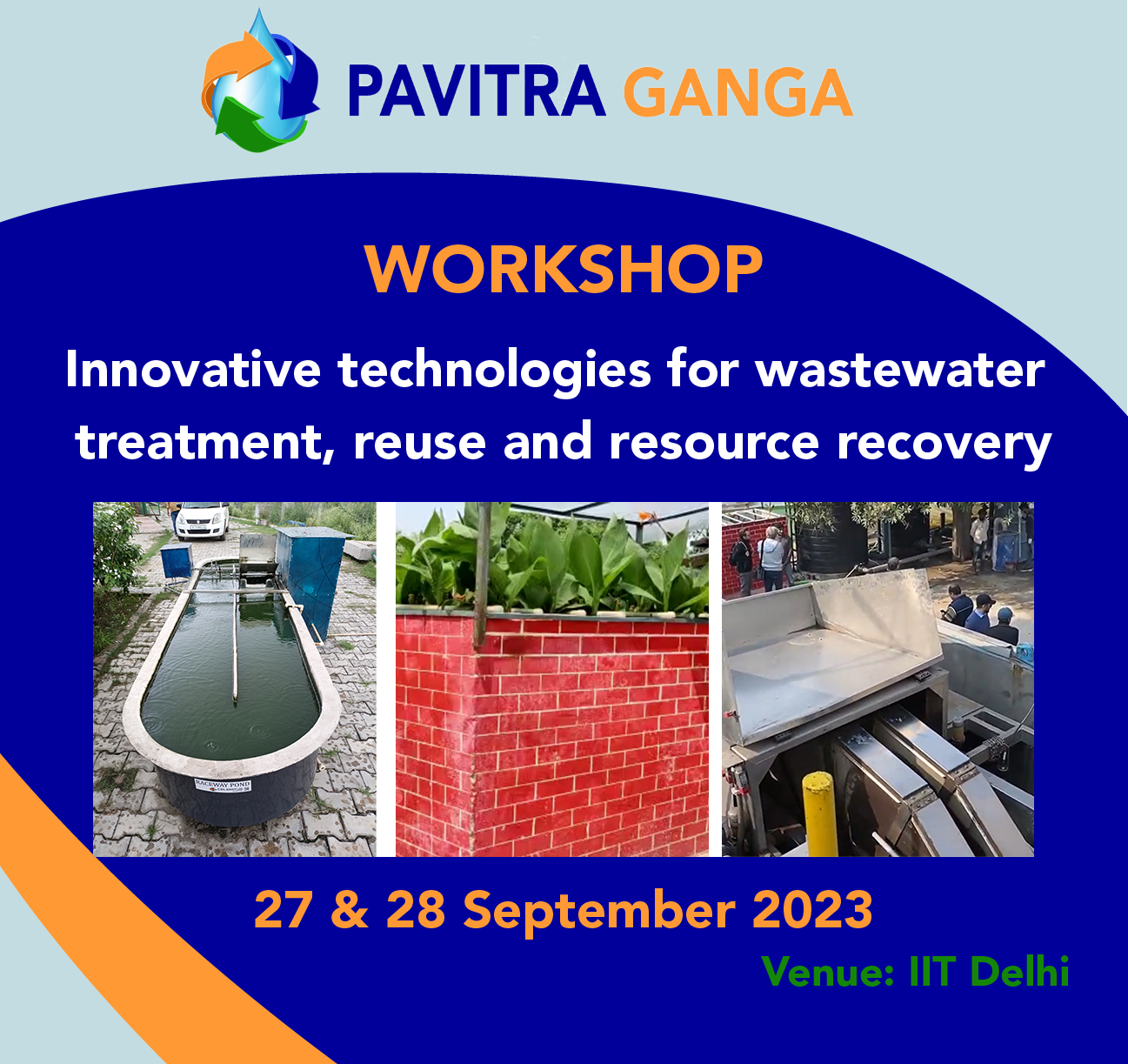 LIVE EVENT at IIT Delhi (with online streaming)
The Pavitra Ganga project partners from IIT Delhi, IIT Kanpur, IHE Delft and VITO are inviting all professionals that take interest in wastewater treatment for a free two-day workshop on "Innovative technologies for wastewater treatment, reuse and resource recovery" to be hosted by IIT Delhi on Wednesday 27 and Thursday 28 September, 2023.
 
Participants can expect a high-level engagement workshop to share experiences and explore prospective collaboration opportunities in the field of wastewater treatment and resources recovery.
 
Learning objectives
Apply professional knowledge to practically applicable wastewater treatment and resource recovery technologies
Improve participants' analytical skills on physico-chemical and biological wastewater quality monitoring techniques
Identify options for water reuse and resource recovery from wastewater and propose technological and management options to complement conventional STP approaches in India
 
Highlights of the workshop
5 keynote lectures by experts from the project

Lectures on 8 innovative wastewater treatment technologies being demonstrated in India
An interactive group work session
A field trip to one of the project demonstration sites in New Delhi
Certificate of attendance to the participants
Free online access to the workshop materials and videos


 
Prerequisites
The expected participants' profile for the workshop:
A bachelor's degree in civil, environmental, chemical engineering or related disciplines, including environmental management

Participants from central and state departments, ministries, water boards, water mission projects

Participants from academic and research organizations who have experience (min: 2 years) in the field of environmental technologies, wastewater treatment and waste management


 
Practical information
No registration fee
Participants should cover their own travel and lodging expenses

Registration has been closed due to the high interest raised by this event and the limited venue capacity. 

Venue: Lecture Hall Complex (LH-212), IIT Delhi.
For further information, contact Eldon R. Rene (IHE Delft, The Netherlands): e.raj@un-ihe.org
Download the Workshop Schedule and the venue map below.
Schedule of the technology workshop of 27 and 28 September 2023
Map of the venue of the technology workshop